SAN CASCIANO DEI BAGNI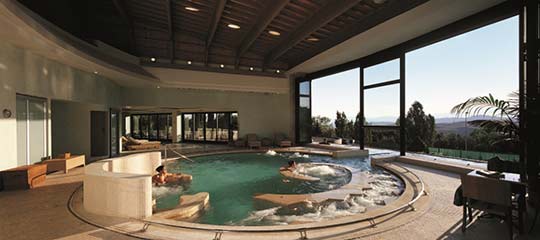 Fonteverde, a Spa of wellbeing amidst the Sienese hills, with rich thermal spring waters full of therapeutic gifts for the body discovered by the ancient Etruscans. Bathe in warm, restorating pools, and feel the massage of water jets that generate both tone and energy.
-
Or choose from among the wide range of exclusive treatments created by our team of specialists and designed to unite the precious properties of thermal spa waters with manual techniques, physiotherapy and science. Complete health and beauty spa experiences for face and body: whether the aesthetic touch or entire strategies for balance and wellbeing.
Medical staff
Diagnostic & CheckUp
Nutrition
Aesthetic Medicine at the Spa
more informations: www.fonteverdespa.com
CHIANCIANO TERME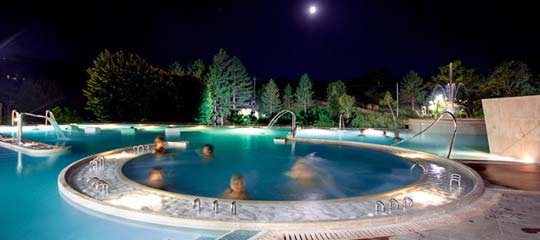 At the Terme di Chianciano, located in Chianciano Terme, in the age-old Acqua Santa spa park in piazza Martiri Perugini the Acqua Santa and Acqua Fucoli waters for treating the liver and the gastroenteric apparatus spring forth. Terme di Chianciano carries out hydropinic treatments with Acqua Santa, subsidised by the national health service. This therapy is enhanced by the baths and muds for the hepatic area at the Terme Sillene (Sillene Spa) where the baths and arthrorheumatic muds take place, and where, again subsidised by the national health service, you may take therapeutic baths for vascular pathologies. Terme Sillene also carries out inhalation treatments, these too subsidised by the health service.
The health care management of Terme di Chianciano in viale Roma is a comprehensive clinic with an analysis laboratory where the Sports' Medicine department is also found. At the health care management in viale Roma, there is a UPMC Italy medical centre for studying liver and heart diseases which is specialised in diabetology and boasts the most modern diagnostics and the most qualified specialists. The UPMC institute for health proposes screening programmes dedicated to preventive medicine in particular for hepatobiliary and pancreatic diseases.
At Terme di Chianciano's Terme Sillene in piazza Marconi there is the muscular and skeletal apparatus rehabilitation centre, coordinated by physicians who are specialists in rheumatology and orthopedics, in cooperation with rehabilitation therapists. Terme Sillene also has a department for inhalation with Acqua Santa and a gym for rehabilitation which is performed in the water, as well as baths for vasculopathies. The Terme Sillene are directly connected with the Piscine Termali Theia swimming pools, while the other spa, Terme sensoriali (sensory spa), is in the Acqua Santa park.
more informations: www.terme-chianciano.it
BAGNO VIGNONI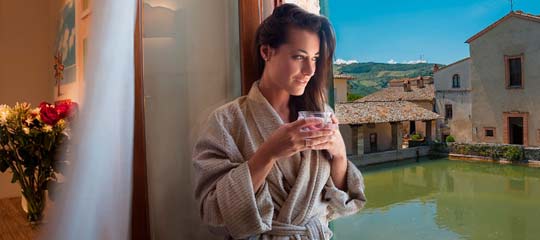 he re-discovery of psycho-physical wellbeing and rejoicing in the benefits offered by nature and its fruits – this is the focus of the Le Terme Wellbeing Centre, a place of peace and tranquillity.
albergo-terme-bagnovignoni-trattamento
The Spa is an oasis of relaxation where you will feel taken care of and pampered in everything, surrounded by the calm which so characterises it. The effectiveness of our treatments and the green philosophy on which they are founded translate into special consideration for you and the land on which we are based.
more informations: www.termedibagnovignoni.it
SAN FILIPPO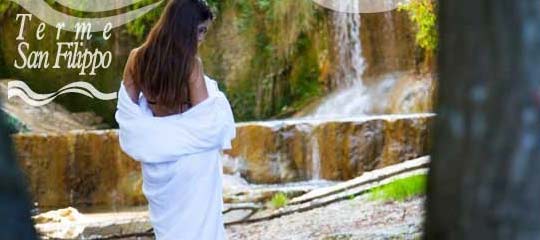 The resort Terme San Filippo, only 60 km far from Siena, consists of a Hotel, a Restaurant, a Wellness Centre, a Spa and a thermal pool and is located in a green park, inside a quiet natural area with the beautiful Tuscan landscape - from the Monte Amiata woods down to the clays of the Orcia Valley - as background.
more informations: www.termesanfilippo.com