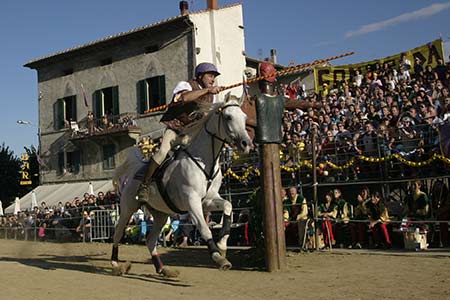 The Giostra del Saracino [Joust of the Saracen], which takes place on 15th August every year, is a historical re-enactment of ancient equestrian tournaments, to recall the clashes between knights and Saracens. In the joust, the knight launches himself with his horse at full gallop against "the Saracen", a wooden statue placed on a rotating spigot fixed to the ground, with a wooden "cat-o'-nine-tails" flail in the right hand and a shield in the left, at the top of which a ring is positioned. The knight must attempt to hook the ring on the tip of his long lance. If the knight, through lack of skill and accuracy, misses the ring and hits the "buratto" [King of the Indies], the whole apparatus will spin around on itself, striking him on the back of his shoulders.
The subdivision of the territory comprises:
San Lorenzo or Porta Monalda in white-red;
San Martino or Porta Umbra in white-light blue;
Sant'Andrea or Castiglioncello in light blue-red;
Santissima Trinità or Spineta in yellow-purple;
San Bartolomeo or il Romitorio in white-purple.
Before the actual competition the Contrade parade in period costume together with the carriage pulled by oxen, which bears the palio, a banner painted each year by a different artist, that will be awarded to the victor: the captains, the ladies, the flag bearers, the musicians, the knights and the grooms with the horses of the competition, pass through all the town's streets up to the square.
(DA SARTEANOLIVING.IT)