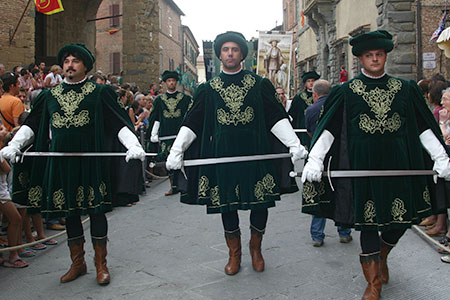 The Terzieri (districts) originated in the division of the medieval town into three parts.
In 1250, the Terzieri were named for the first time in their act of submission to Perugia when, after a brief period of freedom as a Commune, the old town of Città della Pieve was taken over by the town of the Griffon thanks to the protection of the Emperor Fredrik II. In the meantime, the town had acquired its final layout and adopted the shape of an eagle, symbol of the Emperor, advancing threateningly on Rome.
The Terzieri are seen as the three parts of the eagle, which in turn referred to the three social classes: the head was the Terziere Castello or the Class of the knights (Aristocracy), the belly was the Terziere Borgo Dentro or the Middle Class, the wings and tail were the Terziere Casalino or the Class of Footmen (Peasants). Nowadays, the Terzieri commemorate the ancient Caccia del Toro (Bull-hunting), a sort of corrida using lances typical at the time of Perugino (15th-16th centuries), challenging each other to archery on targets in the shape of a Chianino bull fixed on a moving pedestal. The competition is preceded by a historic procession of approximately seven hundred people dressed in Renaissance costume: a true homage to the greatest son of Città della Pieve, Pietro Perugino.
Main dates of the event:
15th August – The proposal of the Challenge
Penultimate Sunday in August – Historic Procession and Caccia del Toro (Bull-hunting)
from: cittadellapieve.org