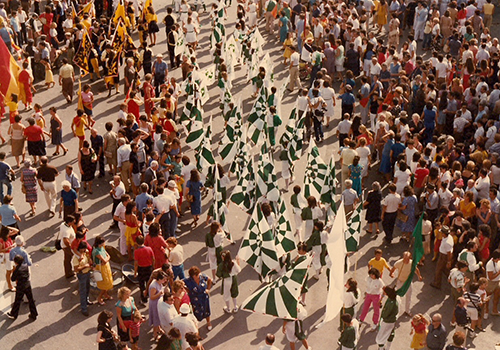 The Ruzzi della Conca is an eventthat happens every year since 1981 on the last Sunday of august an the first of septe
mber at chiusi scalo in the province of Siena .Every year one of the five contrade assumes the honour of organising a party within their own borders .A site is chosen to be the official quarter of the party, here every evening it is possible to dine at the open restaurant have fun at the pub listening to live music involved in the atmosphere .This is how the party has always taken place in its 30 year life .in occasion of the 30th edition it has been decided to unite the forces of all the contrade and make the party in the middle of their town.
The whole competition will be held on the sports field after a procession. Particularly cured is the procession of the last Sunday in which the characters represent life in the 900s, the historical period of reference for a Chiusi citizen, by now definitive unity of the historical town is born separately from this of the station around the beginning of the 19th century, the even is based on the game of the ball at the bracelet a game born in Italy at the renaissance period and dominated as a national sport before the important newer events such as football.