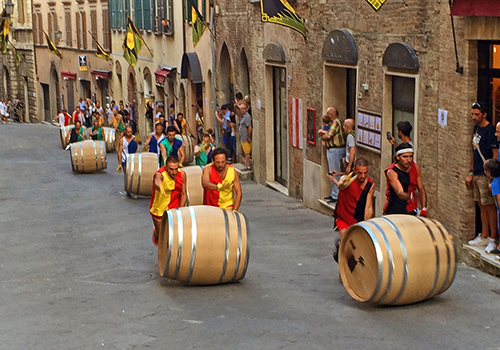 In a climate full of fascination and magic ,each year at Montepulciano takes place an arduous competition up hill:a race with wine barrels called the Bravio.
In the Bravio, eight contrade or town teams compete against each other: Cagnano ,Collazzi ,Le Coste, Gracciano ,Poggiolo, San DonatoTalosa an Voltaia. dislocated all along the medieval town, they compete for the painted cloth whilst rolling the wine barrels each weighing 80 kilosalong an uphill course for over 1km.
The wine barrels are pushed by 2 athletes "pushers" whilst the route of the competition winds around the suggestive streets of the historical town centre of the Poliziano town until the arrival at the sacred Dome in Piazza Grande.
In the week proceeding the competition, the town and the magistrate of the contrada organize a series of events that are very suggestive an involve everyone ,each year it becomes more beautiful an important for an event that is one of the most attractive and important of the proclaiming of the Gonfaloniere, that is celebrated the Saturday before the procession of ashes and the competition of the Thursday night, reminding Montepulciano of August) from 10,00 am in Piazza Grande there takes place an important ceremony of the extraction of the order of the leaving of the wine barrels, the flag throwing the marching of fire , the delivery of the cloth of the magistrate council of the contrade of the Panno di Bravio the offer of ashes to saint Giovanni in the cathedral and the blessing from the priest at 13,00,all go inside the contrade centres in the more suggestive parts of the town to taste the luncheon that celebrates the start of the games.
In the afternoon at 15,00 the procession starts in the suggestive historical town ,composed of more than 300 characters.. for over 2 hours ,one is able to admire dames cavaliers pageants soldiers and magistrates, a show not to miss is also that of the flag throwers and the drummers. Their talent and attention grow each year, even for them infact there is a large prize at steak for the best couple and the same contrade wait to win the silver arch for the best appearance in the procession.
Finally at 19,00 after the signal given by the council bell the wine barrels start to roll along the stones parting from the column of Marzocco.
This is followed by the great and long celebrations of the deserved winning contrada, that lasts until late in to the night.
(From www.braviodellebotti.com)