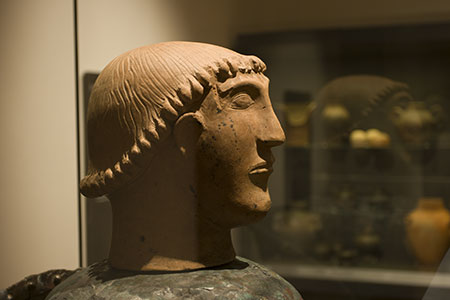 The National Archaeological Museum :It keeps very important finds of the Etruscan culture: "bucchero " ceramics, the stone "fetida",sculptures
( cippi, sphinxes ), sarcophagi, stone and terracotta cinerary urns. " The Canopic vases " are of great importance: they are cinerary vases typical of the area of Chiusi, characterized by lids in the shape of a human head, often placed on terracotta or bronze thrones.
Museo Etrusco di Chiusi ( siena )
The Etruscan Necropolis: The large number of tombs scattered along the territory, unfortunately have suffered devastations, plunders and systematic spoliations in ancient times, above all in the late eighteenth century and the early nineteenth century. Among the very few hypogei accessible at present, we indicate the Tomb of the Lion ( Fifth century B.C.) and the Tomb of the Pilgrim ( Second Century B.C. ).
FROM CRETEDISIENA.COM